---
Connect to Stripe
THIS IS PRIORITY ONE!!  You cannot receive payments until this step has been completed.
We want you to feel confident about getting your funds quickly with full security. That's why we've employed Stripe Connect to ensure that a third party who specializes in these types of payments is securing your sensitive account information (we never see it) and is expediting payments directly to your bank account in real time. You don't have to trouble with the fidgety fussiness of becoming a credit card merchant – we've already attended to that for you. Your Stripe Connection is simply a one-way funnel into your bank account.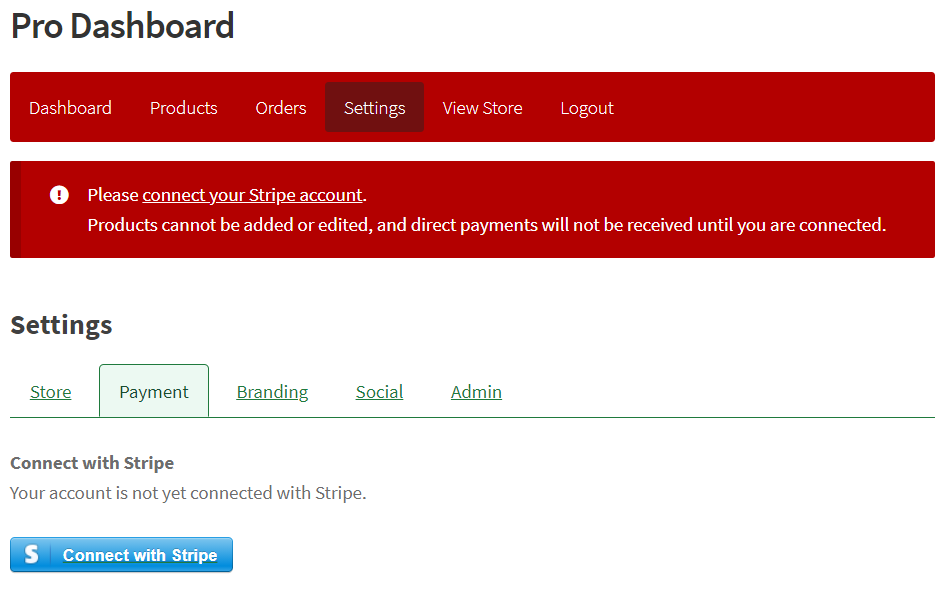 That said, it's important to note that you must take care in answering the questions Stripe asks you. Stripe's anti-fraud detectors are constantly on alert and giving a fast, easy answer that might be wrong could delay your Stripe approval and embroil you in an email/telephone struggle to get your Stripe account approved. Yes, Stripe is just that careful because it's your money. So please survey the questions to be asked and gather the correct information in advance. Then, complete the questions accordingly. You'll be glad you did when frustration and delays are avoided.
To navigate to your Stripe Connect, click Settings on your Dashboard menu, then click the Payment tab.

Credit Card Processing Fees
Anyone who accepts VISA, MasterCard, and all the other cards, pay credit card processing fees. We pass those fees along to you. Generally, they run under 4% of your sales, so you might wish to change your pricing on each item to accommodate your card processing fees.

Local Taxes
We do not price your local taxes, if any, into your sales. If your activities are taxable, you need to remit to tax authorities yourself, and perhaps change your pricing accordingly. For instance, if your locality charges a 9% tax and you wish to raise a $100 tree price by the correct amount, you would multiply $100 times 1.09 which would give you a new price of $109 ($100 x 1.09 = $109). The same type of calculation applies if you wish to calculate for credit card processing fees above.

Your Store Appearance and Info for Your Customers
You can furnish information about your organization and your fundraiser by filling in the appropriate fields in your Store Pro Dashboard settings. Contact information, a store description, store notice, and social media links are all examples of what can be set. They are available for you to customize to make your store your own and set the foundation for a successful store.
Contact information, including a phone number and email address, is mandatory and must be provided. Store description, store notice, and social media links are not required, but are all examples of other information that can be provided and displayed to your customers.
The Store General Notice appears in the green area at the top of every page of your store, while the Store Description appears in the red area below your banner picture on the Home page of your store only. In addition to the Store Notice and Store Description, you have the ability to customize the sidebar message (including header) that your customers see on the shopping pages of your store.
Your contact phone number and email address will appear in a gray box attached to the banner, and will appear on every page of your store. Any social media links you provide will also appear in this box as clickable icons.
For reference, the image below displays each of the options described above.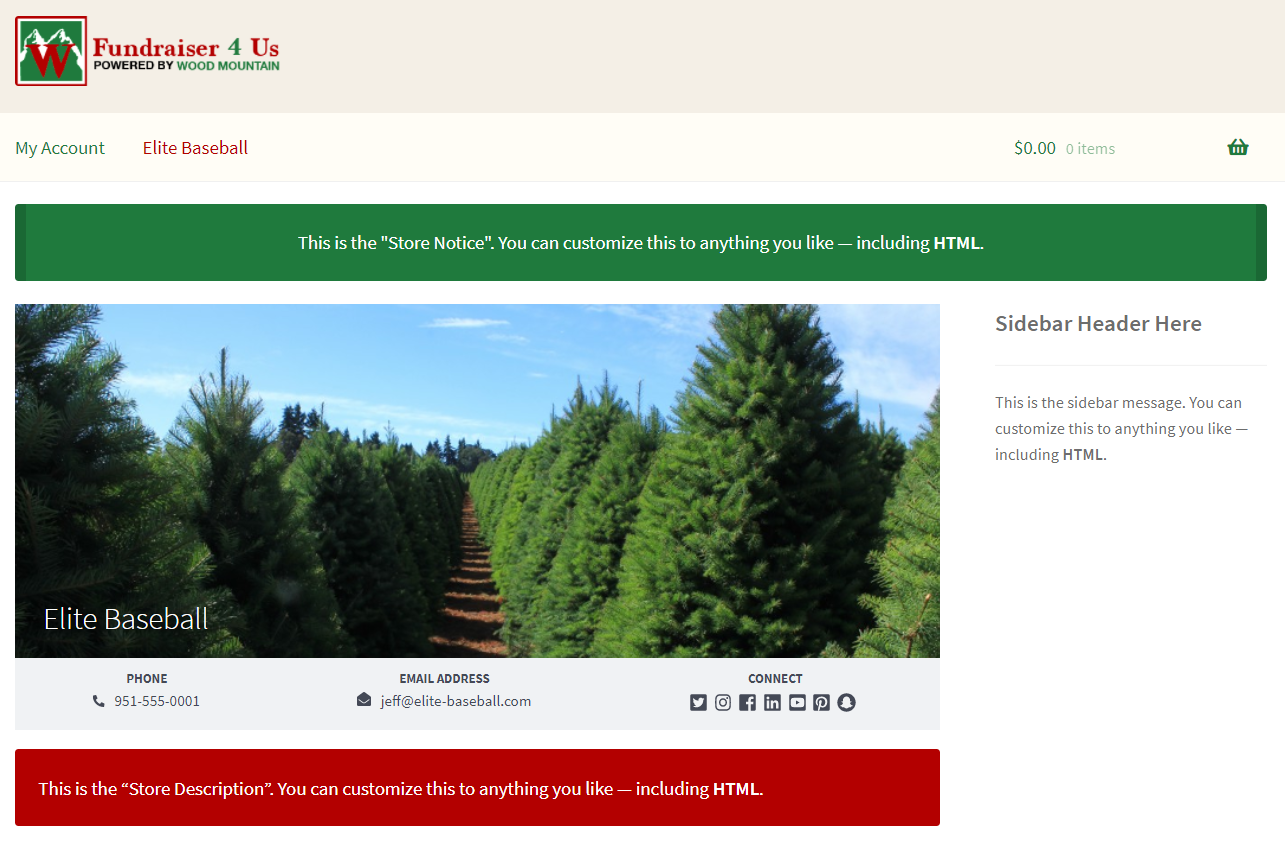 To manage these items, click Settings on your Store Pro Dashboard menu, then navigate to appropriate tab. Contact and store information can be found by clicking the Store tab, while social media links can be managed by clicking the Social tab.
If you would like to change the banner image displayed on each of your shopping pages, navigate to the Branding tab. You should use an image that is about 785 pixels wide by 300 pixels high. Custom graphics and logos are not supported at this time.

When Your Fundraiser Is Over
When the store has closed for the season, the general notice in green will disappear and a "closed" notice in red will take it's place. To customize this message, fill in the Store Closed Notice field on the Store tab of the Store Pro Dashboard settings.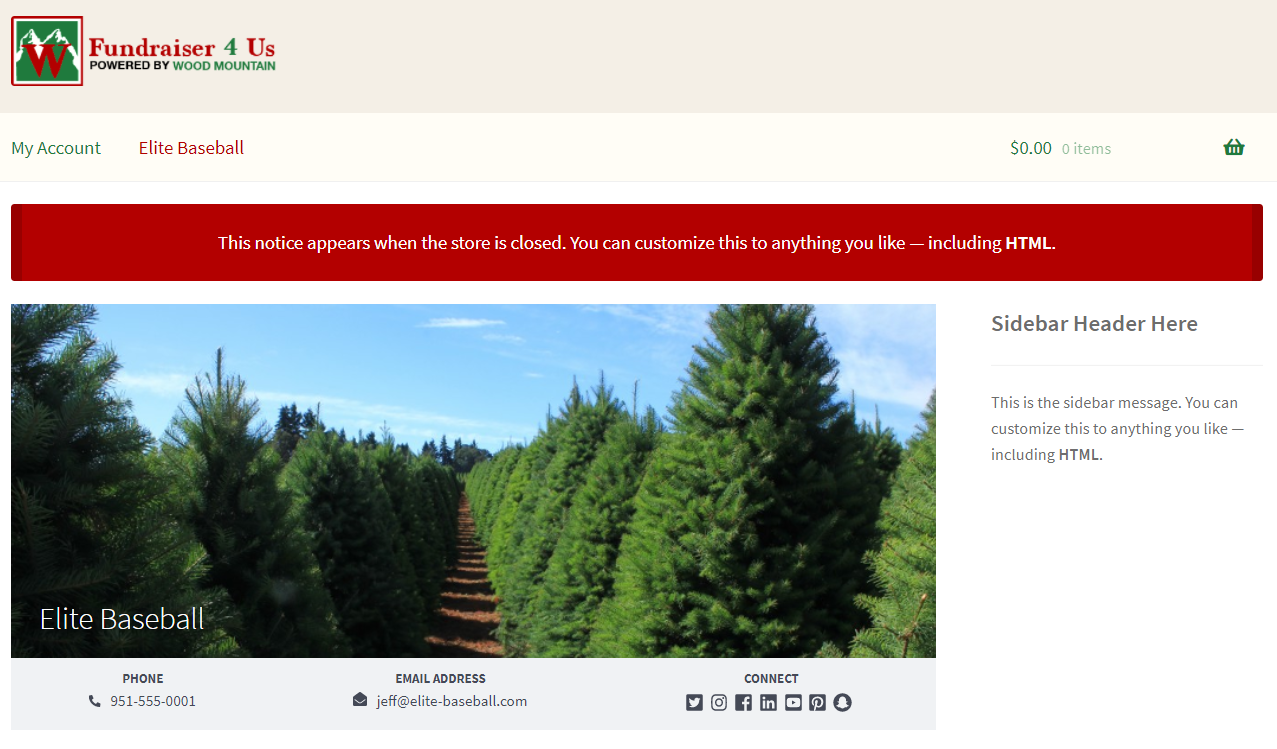 Admin Settings
There are multiple instances when the system sends you, the "vendor", an email notification. By default, the notifications are sent to the email address used to create the vendor account. If you would like to designate additional recipients of these notifications, click on Settings on your Store Pro Dashboard menu, then navigate to the Admin tab.
Enter each additional recipient's email address on a separate line. Do not include any commas, semi-colons or other separators.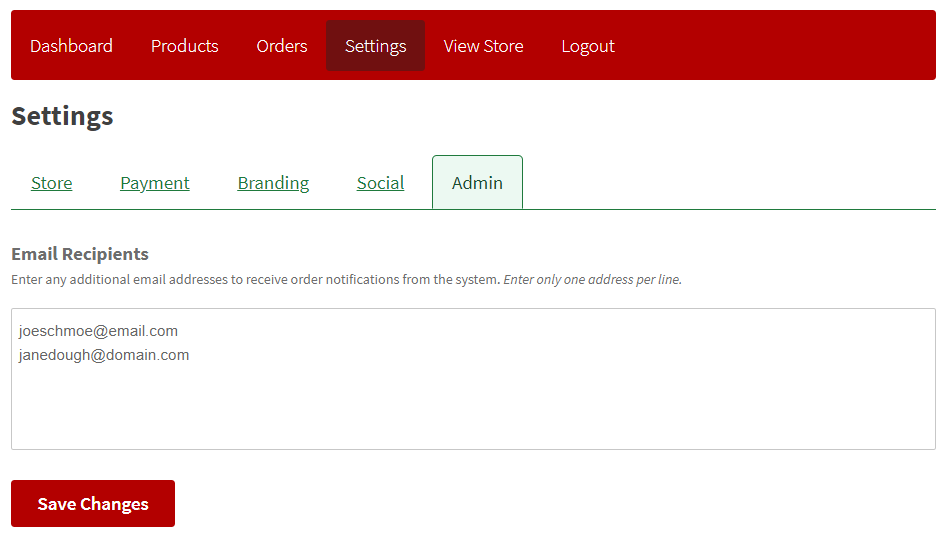 Dashboard View
When you log in to your Store Pro Dashboard, you will see an overview of your fundraiser. At a glance, you can see what payments have been received and how much is still pending. You are also given an overview of the number of orders and products you have sold, as well as a quick listing of the last 10 orders received.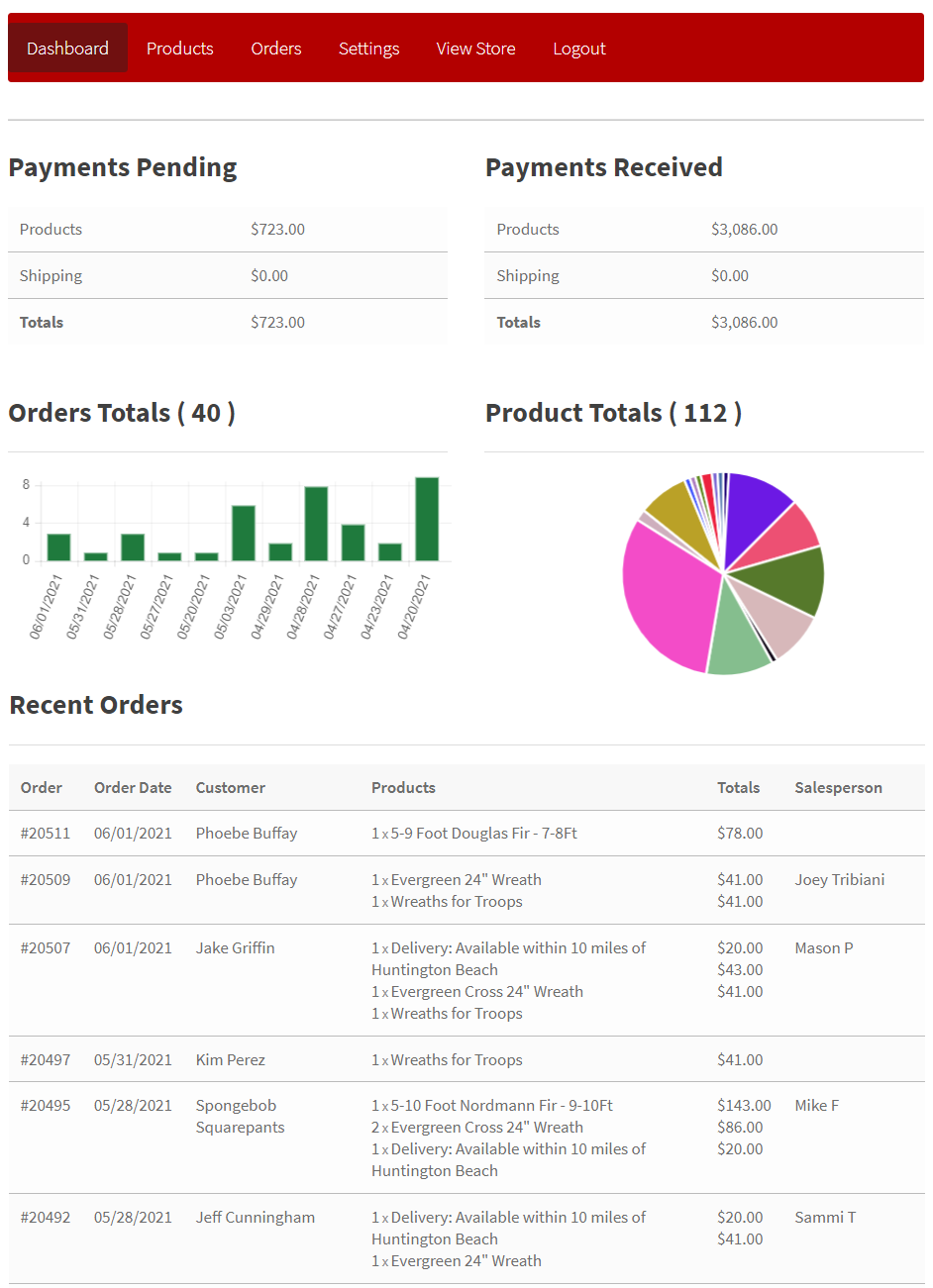 Products
To view the collection of products available in your store, click Products on your Store Pro Dashboard menu. The listing of products, will offer a brief overview of the product, along with its price and current availability status. Products listed as "Offline" are not visible or purchasable by customers. Click the name of any product to view it as it is/would be displayed in the store.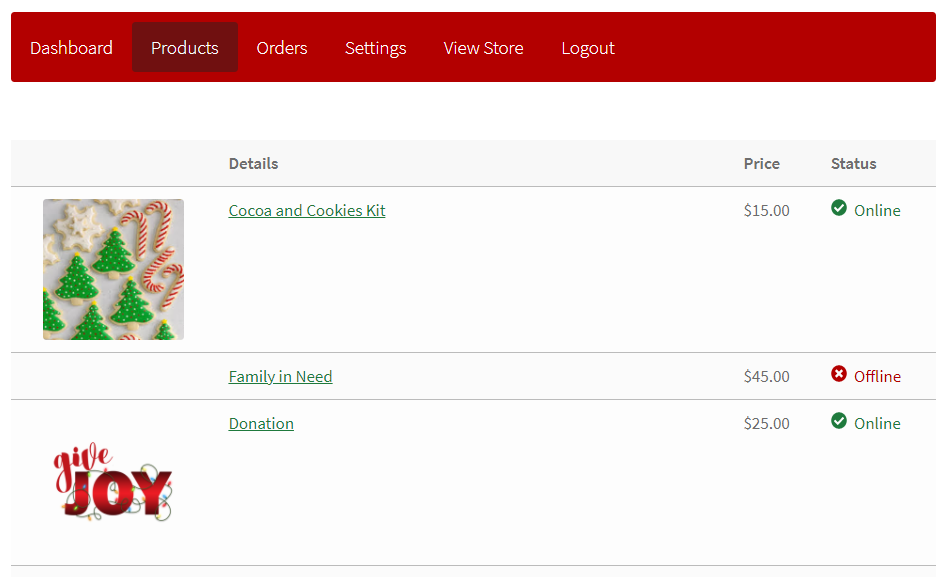 Orders
To review and/or export a record of your orders for the season, navigate to Orders on your Store Pro Dashboard menu. On this page, you will find a detailed overview of all received orders. Along with general order information such as date, customer, products ordered, etc., the order's current status is displayed.
A Processing status indicates that payment has been received and the order is awaiting Distribution Day. Pending orders (orders with an incomplete payment) are not included in this listing.
To add a note to the order, click the "+ Order Note" link. The note you enter will be also be emailed to the customer.
Click on the Order # to view additional information about the order including salesperson and delivery information.